ULTRA LOW SULPHUR DIESEL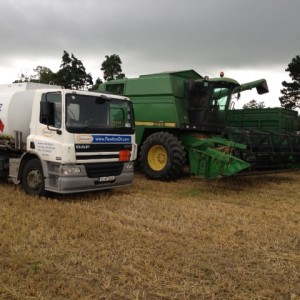 ULTRA LOW SULPHUR DIESEL
From March 31st 2011 Agricultural Diesel (Marked Gas Oil / Green Diesel) supplied in Ireland for the use in mobile agricultural / construction machinery i.e. tractors, diggers, forklifts, combine harvesters etc has to be an ultra low sulphur diesel (ULSD) which contains 10 parts per million of sulphur (10ppm). The new fuel is designed to lower emissions and lower the rate of sulphur emitted from our vehicles.
It is also necessary to use this fuel in many of the newer agricultural and construction machines as the old high sulphur diesel which contains 1,000 parts per million of sulphur can have an adverse effect on these engines.
This fuel may have a cleaning effect on the fuel lines of machinery and on the inside of storage tanks where an old residue may have built up over the years. This effect will reduce after the first 2-3 fills.
The new diesel may also contain a small amount of biofuel (up to 7%), however opinion on whether there is a presence of biofuel is divided, so we have to presume it is present, and act accordingly.
Road diesel (DERV) has been a low sulphur fuel for the last number of years and may also contain up to 7% biofuel.
Low sulphur diesel with biofuel present, can absorb more water from condensation on the inside of the storage tanks as the fuel level drops, thus creating ideal conditions for the growth of micro bacteria which will form into a black sludge type substance that will block filters.
Therefore it is vital that all storage tanks are cleaned thoroughly at least once every two to three years and water absorbing and dirt filters are installed.
Since March 31st 2011 (the date the new regulations were signed into law i.e. Regulations 2011 S.I.155 of 2011) it is an offence to supply or use the old green diesel (high sulphur) for the use in mobile agricultural / construction machinery. To do so may leave the supplier, and / or user, open to fines and penalties. The regulations are available at www.irishstatutebook.ie.
Ultra Low Sulphur Diesel (ULSD) can also be known as Low Sulphur Diesel, 10ppm Diesel, and Sulphur Free Gas Oil (SFGO).
Click here to download our Sulphur Free Gas Oil Safety Sheet
Gas Oil / Marine Diesel
Gas Oil / Marine Diesel
Green Diesel is also known as gas oil, 35 seconds, medium diesel, heating oil, tractor diesel, generator fuel, digger fuel and many more.
Whatever you call Green Diesel, Newline oil can supply you with it where you want it, when you want it.
Green Diesel is used by our industrial, commercial, agricultural and construction customers in a wide variety of uses from heating right through to tower cranes, excavators, diggers, tractors etc.